Fish the warm tropical waters around the remote South Pacific island of Kadavu. Jungle covered volcanic hills swoop down to mangrove bays and coral lagoons. 75 miles of Great Astrolabe barrier reef with outer slopes plunging to canyons of over 12,000 feet.
Blue marlin cruise within sight of the reef, yellowfin tuna smash bait balls as far as the eye can see. Packs of marauding wahoo cover the reef points and big Pacific Sailfish free-jump along the reef edges.
Sound like an anglers paradise ? It is.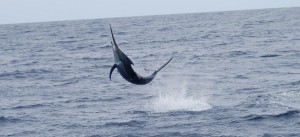 Bite Me Gamefishing Charters's 30ft custom twin engined fast offshore sport fishing boat  Bite Me Too can be throwing poppers for huge GTs or trolling Penn International and Shimano stand-up tackle for blue marlin within 10 minutes of your lodge.
Whether you want to tease up a pack of 50lb wahoo and cast a fly for the ultimate fly fishing experience or watch a 500lb blue marlin greyhound across the wake as you climb into the chair and strap yourself into the ride of your life, Kadavu Island can make it happen.
Bite Me Too is based at Matava Lodge, a AAA rated 3 & 1/2 star Eco-Adventure lodge on the South East side of Kadavu Island. Traditional thatched Fijian bures perch on the island's rainforest covered slopes with private decks offering magnificent views out over the sheltered coral lagoons and Great Astrolabe Barrier reef.
Anglers can choose to work the mangroves, sheltered lagoons or reef edges for Giant Trevally, bluefin trevally, Narrow Barred (Spanish) mackerel, coral trout and a host of toothy reef predators or work the outer reef slopes for wahoo, yellowfin and Pacific Sailfish. Within a few miles of the barrier reef are deep ocean canyons where we find blue marlin, huge yellowfin tuna, mahi mahi and shortbill spearfish.
The Kadavu seamount offers nutrient rich upwellings holding large concentrations baitfish and oceanic predators. An hour from the lodge, a remote coral atoll breaks the surface with sheer sides plummeting to depths of 6,000 feet.
Bite Me Two offers anglers the opportunity to explore miles of pristine unfished tropical waters in comfort with a full range of high quality tackle from custom made all-roller ultra-light record hunting outfits to Penn International 50s on Penn International, Shimano and custome Eyre rods.
From our base here you can throw poppers for GTs , tag a blue marlin by mid-morning, put some 50lb wahoo on the deck by lunch, fight a double header of sails on 12lb line by mid afternoon and stop off on the way back for a bit of deepwater jigging for dogtooth tuna, almaco jack, jobfish and Opakapaka.
Whatever your preferred method of fishing or species you wish to target, the opportunities here are endless.
Click here to contact us for a sample all-inclusive Package: