BlueWater Magazine is dedicated to bringing gamefishers the essential cutting-edge wisdom on offshore gamefishing, boats and equipment.
With stunning photography blended with exciting features from the world's leaders of the sport, we aim to deliver knowledge and inspiration that will make a real difference to the success and enjoyment of beginners and experts alike.
The GT goldmine part 2
Issue 92 of  BlueWater magazine out now – 27th June 2012
FISHING FEATURES
Dolphinfish – high-performance predator
These spectacular, tasty, and exciting gamefish are also fascinating creatures. Donald Hammond, the US marine fisheries biologist who runs the Dolphinfish Research Program, reveals just how fast they grow, how remarkably gluttonous they are, and how far they travel in their brief lives.
The GT Goldmine – Part 2 Battle Tactics for the World's Largest Giant Trevally
Master GT angler, Brandon Khoo details the strategies, the mindset, the techniques, the tackle and the vital tips that will not only get you hooked-up to the biggest GTs in the world, but offer you a real chance of landing them!
Book Review: BIG – The 50 Greatest World Record Catches
A stunningly-presented account of the story behind each record catch.
A Day to Remember: Night of the New Zealand BluefinStanding up to enormous Pacific bluefin tuna on a cold winter's night.
Creatures of the Deep: Marlin 'Lice'
These calanoid copepods look like space invaders and even camouflage themselves with ultraviolet light.
They Call the Shots: Capt Paul Mead – The Pioneer
After roaming the South Pacific, Paul chose Vava'u in Tonga as the perfect venue to run charters for blue marlin.
Prey Species: Herring – The Most Important Baitfish in the World
As vital prey, herring influence the lives of many gamefish.
Big Fish Small Boats: Making Your Trailerboat User-Friendly
How to organise your boat for less confusion and more success.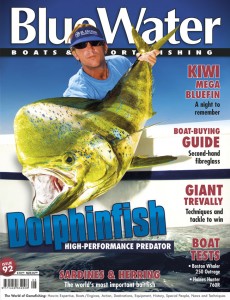 Lure Lore: Part 10 – Probe Deeper
Surface lures are great for billfish, but for other gamefish going down can produce even more results.
Smoke and Mirrors Scent Blazer 'Slant Head'
What could be better than combining the visuals of a skirted lure with the attraction of real bait?
BOAT FEATURES
HIGH-PERFORMANCE OFFSHORE ROCKET: Boston Whaler 250 Outrage
Like a convertible sportscar for the bluewater, this surprisingly dry and very comfortable American-built centre-console sportfisher looks smokin' and has the performance to get you to where you want to go sooner.
HIGH SEAS ACTION: Haines Hunter 760R Limited
Tuna-testing the flagship from a company renowned for outstanding fibreglass rough-water trailerboats.
HOW TO BUY A SECOND-HAND FIBREGLASS BOAT
A marine surveyor's invaluable guide to evaluating used boats so you don't get caught with a lemon.
---
Subscribe for two years and save
Subscribe for two years for just $139.95 and we'll give you bonus gifts valued at $154.85 FREE!
BON– USES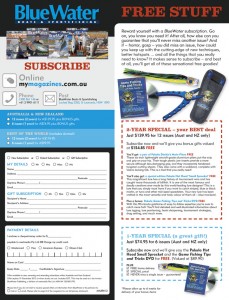 A pair of Pakula Deckie's Mate Pliers – FREE!
These six-inch lightweight aircraft-grade aluminium pliers put the snip and grip on your hip. Their tough plastic jaw-inserts provide a more secure although less-damaging grip, and they incorporate hardened tungsten cutting shears. They also come with a scabbard, complete with Velcro locking tab. This is a tool that you really need!
A special edition Pakula Hot Head 'Small Sprocket' – FREE!
This magnificent lure has a long history of tournament wins and has caught many thousands of billfish. It is one of the most famous and deadly creations ever made by this world-leading lure designer! This is a lure that you simply must have if you want to catch striped, blue or black marlin, or tuna and other mid-sized speedsters. Your new lure has been crafted in the most versatile and tasty colour of them all – blue mackerel.
Pakula Game Fishing Tips and Tricks DVD – FREE!
With this 90-minute goldmine of easy-to-follow expertise you're sure to catch more fish! You'll find detailed and well-illustrated information about lure rigging, lure positioning, hook sharpening, tournament strategies, drag setting, and much more.
Subscribe for one year and save
Subscribe for 1 year (6 issues) for $74.95 and you'll get the Pakula Hot Head Small Sprocket and the Game Fishing Tips and Tricks DVD for FREE. (Valued at $89.90)
Terms & Conditions: Offer available to new, renewing and extending subscribers within Australia and New Zealand.
Subscribe Online and Save
Subscribe Online and Save at mymagazines.com.au
Offer expires 19 December 2012.
Please allow up to 6 weeks for delivery of your bonus items.