If its Marlin you want, Kadavu island sees black, blue and stripes however the predominant species caught all year round is the blue marlin.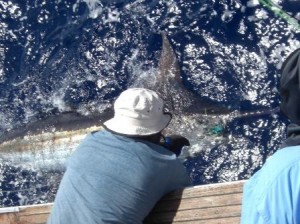 Ranging in size from 150lbs to 1,000lbs Marlin can be caught trolling lures, tuna skip-baits or livebaiting.
We run Penn International stand-up 50s when trolling lures and teasers or when trolling skipbaits, livebaiting small tuna or fishing bait & switch techniques.
Deep trenches run up either side of Kadavu island and the 1,000 fathom line is just 10 minutes cruise from the lodge. If the weather turns on us, we simply fish whichever trench is on the lee side of the island.
Alternatives are the 1,000 fathom line around Solo, a coral Attol that spikes up from 4,000ft to break the surface or the Kadavu seamount, an underwater mountain that rises from depths of 9,000ft to just 400ft.
Along with the blue marlin come yellowfin tuna to 150lbs, mahi mahi to 50lbs and wahoo to 100lbs as a common by-catch.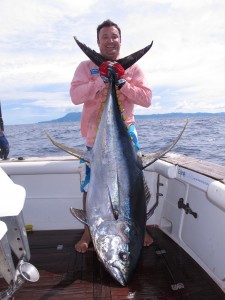 We have boated blues to 500lbs but fought and lost blues to 800lbs and possibly more.
If you wish to target Marlin and the large GTs and Dogtooth Tuna found around Kadavu Island, you must bring your own specialized Heavy Tackle GT Popping & Jigging tackle..