The flat out bullies of the coral reef systems,  here GTs range in size from 5kgs to well over 50kgs. Specialist anglers target them casting poppers and stickbaits into the barrier reef breakers.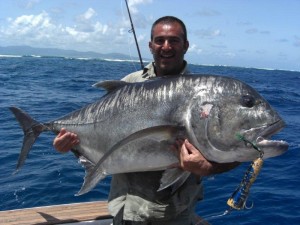 Giant Trevally chase down and smash a surface lure, then charge off straight towards their favourite coral pinacle to try to bust you off.
Giant Trevally fight hard and never quit. If you survive the first minute, your are in with a chance.
If you wish to target the Extra Large GTs here you must bring your own