Large Dogooth Tuna are found all around Kadavu Island's outer barrier reef drop-offs and ofshore structures like the Kadavu Seamount. We hold the Fiji All-Tackle Record with a fish of over 90kg.
There is a certain mystique surrounding the dogtooth tuna. Not in fact a member of the tunas at all, it is actually a member of the Bonito family.
It does have many similarities to the tunas though in some respects it differs considerably. Teeth for example. The reason the dogtooth tuna is called as such are its relatively large widely spaced Conical teeth.
The Dogtooth tuna has an aggressive attitude and spends most of its life prowling outer reef slopes and deep drop-offs terrorising pretty much every other fish out there.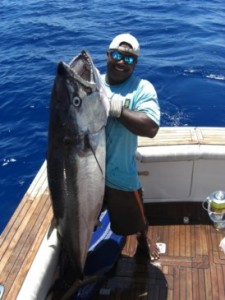 Although we catch dogtooth tuna whilst trolling, popper casting along the reef and livebaiting for marlin, we primarily target them using deepwater jigging methods.
Found all around Kadavu island, they can be targeted on jigs in most weathers however the sumer months (Dec-May) are the best months for deepwater jigging.
If you wish to target the extra large dogtooth tuna found here on jigs
you must bring your own Heavy Tackle jigging outfits.