Kadavu Island is notorious for its winter run of big Wahoo. The wahoo season starts in earnest around June when the water temperature drops down below 26 degrees and continues through to late September.
It is possible to catch wahoo year round at places like the Kadavu seamount and trolling offshore for marli & yellowfin but from May to October, large packs of wahoo gather along the Great Astrolabe barrier reef. Packs usually consist of around 20 to 30 Wahoo with most fish averaging 5olbs but expect some fish to be over the magical 100lb mark.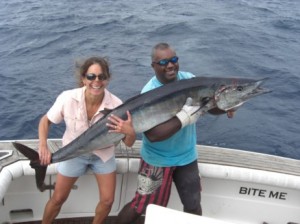 The Wahoo season coincides with the winter tradewinds season however should the wind pick up, we fish the calmer lee side of the North Astrolabe Reef and places like Solo Atoll.