Australian anglers Steve, Peter and Paul came to Matava Eco-Adventure Resort recently to fish light and ultra-light tackle on the winter wahoo and sailfish. We fished 3kg line class for wahoo and tunas and targeted Pacific Sailfish on 6kg line class.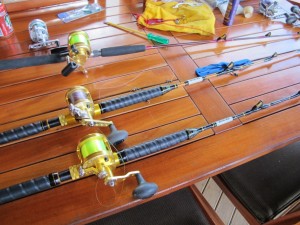 The Eyre rods and Avet SXs – Our ultra-light tackle Record hunting gear
Steve brought with him a new Cam now available from Avet. Called the South Florida Cam it modifies the Avet SX drag curve to perfectly suit our ultra light tackle record hunting.
The wahoo fishing was slow thanks to La Nina weather patterns but the guys did pick up some National Records including the M-03 Kawakawa and Yellowfin tuna. Deckie Glenn was clearing rods after a multiple yellowfin hook-up when a chuky skipjack tuna jumped on. Turned out his skippie smashed the current M-03 Fiji National Record when it weighed in at 8.6kg
The boys hooked and fought several sails on 6kg but the sails continued to elude us with spectaculor leaps and jumps across the ocean (We have some great video to post when I get to a faster connection !)
On the last day we went all out for the M-06 Sailfish Record. Fishing Soso bay Paul hooked up a nice sail and we went into action….Winning back the belly of line, charging backwards after the hard fighting fish. With both Joe and Glenn aboard to handle the leader and gaffs we finally had the sail aboard after about a 45 minute fight.
What a cracking Sail for Paul on 6kg line class
The sail weighed in at 34.20kg and subject to FIGFA approval and line testing is the new M-06 Fiji National Record
The new M-06 Fiji National Record